Custom Search
Precipitation Reactions
When 2 reactants are mixed, an insoluble compound may form. This insoluble solid compound is called a precipitate. The production of a precipitate is considered a reaction.
How do we determine if a reaction occurs?
1. Write names of products by switching last names
2. Check solubility on table F.
soluble --> (aq)
insoluble--> (s)= precipitate = means a reaction occurs
2 soluble products = no reaction=STOP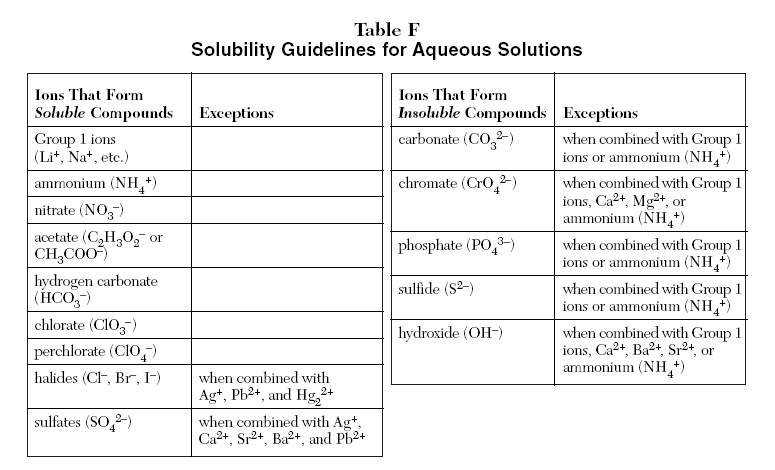 ***Note...If Both products are soluble and all ions remain independent in solution; no reaction occurs like in this example:
Na+(aq) + Cl-(aq) + K+(aq) + NO3-(aq)
Names Examples
1. Write names of products by switching last names
2. Check solubility on table F. (insoluble= solid, soluble=aqueous)
A. silver nitrate (aq)+ potassium chromate(aq) è potassium nitrate(aq) + silver chromate(s)
B. sodium sulfate(aq) + barium chloride(aq)è barium sulfate(s) + sodium chloride(aq)
C. lithium hydroxide(aq) + sodium chromate(aq)è sodium hydroxide(aq) + lithium chromate(aq)
C has no reaction, both products are soluble
on to Writing Reactions given Names(Molecular, Ionic and Net Ionic)
Writing Reactions given Formulas (Molecular, Ionic and Net Ionic)