Custom Search
link to the Periodic Trends Electronegativity
back to Periodic Table Links
Periodic Table Trend in Electron Affinity
Electron Affinity measures the change in energy that occurs when an electron is added to the outer energy level of an atom forming a negative ion (an anion).
M(g) + e- --> M-(g)
Energy is released when an atom gains an electron. Thus the energy change will be negative (exothermic) if the atom becomes more stable from the addition of this electron.
Think of an excited electron falling back to the ground state, except the excited electron belonged to another atom.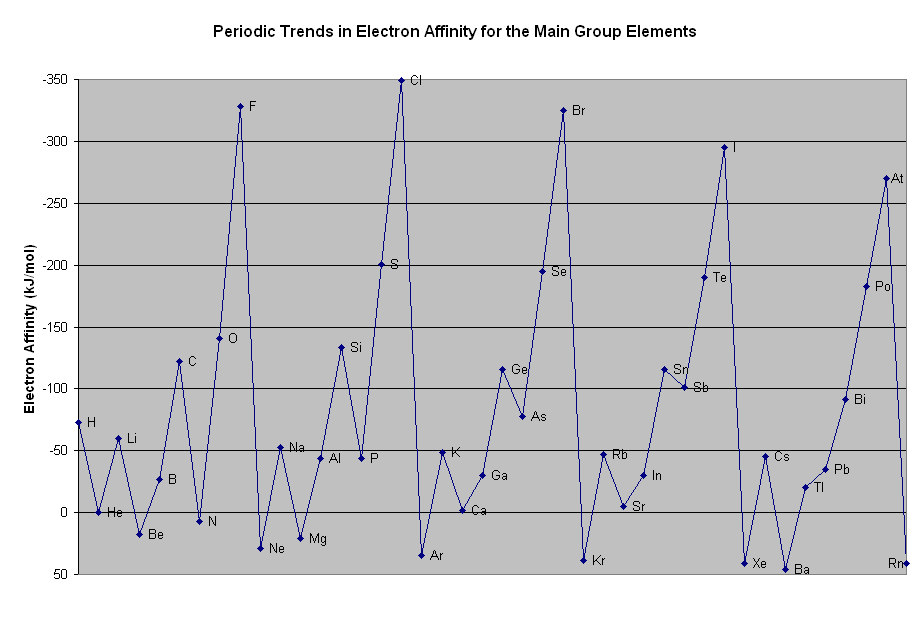 Trends on the Periodic Table
Electron affinity tends to decrease down a group. Group 17 Chlorine and Fluorine are the largest negative value.
Electron Affinity tends to increase across a period (left to right) Chlorine andFluorine again has the largest negative value.
Notes-Noble Gases (He, Ne, Ar..) and Elements with full s-sublevels (Be, Mg, Ba) are + values, they become unstable with the addition of an electron. A full sublevel is more stable than a partially filled one.
Also there is a dip between the p2 and p3 elements due to that added repulsion that occurs when electrons are now paired up.
+ 1e- -->

| | | | |
| --- | --- | --- | --- |
| C- | 1s | 2s | 2p |
| N- | 1s | 2s | 2p (repulsion) |
link to the Periodic Trends Electronegativity
back to Periodic Table Links