Custom Search
link to the Metals, Nonmetals and Metalloids back to Periodic Table Links
Ionic Radius
Metals lose 1 or more electrons when they form positive ions. The size of the ion is smaller than the size of the parent atom. If a group 1 or a group 2 ion, the atom loses its valence shell, so it has one less principal energy level of electrons.
Nonmetals gain 1 or more electrons to fill their principal energy level. The proton to electron ratio is greater, the effective nuclear charge is lessened and the ion is bigger than the parent atom.
To simplify lose electrons and the ion is smaller, gain electrons it gets bigger.
Metals get smaller, nonmetals get bigger.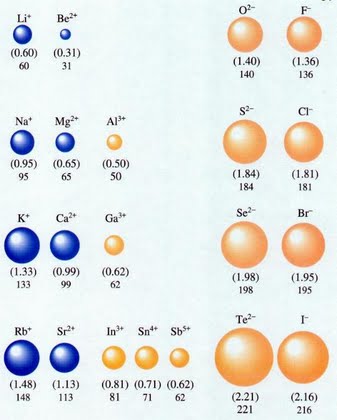 link to the Metals, Nonmetals and Metalloids back to Periodic Table Links